HOW THE SES CAN HELP YOU
IF IT IS A LIFE THREATENING EMERGENCY CALL 000 (triple zero)

For our assistance call the State Call Centre on 132 500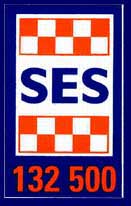 For Emergency Information Call 13 3337
Click Here to Check The DFES Alerts & Warnings Page
The primary role of the SES centres around preparing and responding to floods and storms, but we are trained to respond to all areas of search and rescue.
If your property is damaged by falling trees, storms or floods , we will make temporary repairs but it is your responsibility to make permanent repairs either yourself or through your insurance company.
The information in these pages is provided in good faith. Any errors or omissions are excepted. Mundaring State Emergency Service Unit makes no representations, express or implied, as to the accuracy of the information contained in this site, and accept no liability for any use of the information or reliance placed on it.